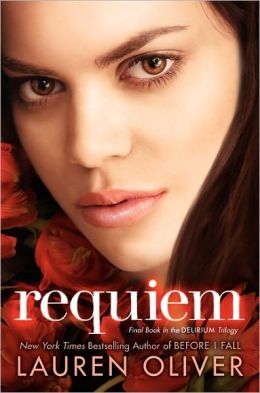 Lauren Oliver will appear at the Burlington Barnes & Noble on Saturday, October 19th, to celebrate the release of Requiem. A New York Times, USA Today, and Publishers Weekly bestseller, this exciting finale to Lauren Oliver's acclaimed Delirium trilogy is a riveting blend of nonstop action and forbidden romance in a dystopian United States. With lyrical writing, Lauren Oliver seamlessly interweaves the peril that Lena faces with the inner tumult she experiences after the reappearance of her first love, Alex, the boy she thought was dead. Named an Amazon Best Book of the Year, this sophisticated and wide-ranging novel brings the New York Times bestselling Delirium trilogy to a thrilling conclusion.
Now an active member of the resistance, Lena has transformed. The nascent rebellion that was underway in Pandemonium has ignited into an all-out revolution in Requiem, and Lena is at the center of the fight. After rescuing Julian from a death sentence, Lena and her friends fled to the Wilds. But the Wilds are no longer a safe haven. Pockets of rebellion have opened throughout the country, and the government cannot deny the existence of Invalids. Regulators infiltrate the borderlands to stamp out the rebels.
Lauren Oliver is the author of the YA novel Before I Fall and the Delirium trilogy: Delirium, Pandemonium, and Requiem, which have been translated into more than thirty languages and are New York Times and international bestselling novels. She is also the author of two novels for middle-grade readers, The Spindlers and Liesl & Po, which was a 2012 E. B. White Read-Aloud Award nominee. A graduate of the University of Chicago and NYU's MFA program, Lauren Oliver lives in Brooklyn, New York.