Cover art from Click, Clack, Boo!: A Tricky Treat by Doreen Cronin, illustration copyright 2013 by Betsy Lewin. Kirkus children's editor Vicky Smith considers book discussion guidelines for the twenty-first century. "Black Kids Camp Too…Don't They?": Michelle H. Martin on why #WeNeedDiverseOutdoorBooks. Kitty Flynn wishes a happy twenty-fifth anniversary to Robie H. Harris and Michael Emberley's It's Perfectly Normal. Cathryn M. Mercier, director...
My heart was racing like Secretariat, even though I had practiced my acceptance speech, as I nervously approached the podium. They had called my name to receive the Coretta Scott King Illustrator Award for my work on The Origin of Life on Earth: An African Creation Myth. The CSK Breakfast...
It was an adult book — The Chaneysville Incident by David Bradley — that inspired me to try my hand at writing historical fiction for children. I'll never forget the author's harrowing description of one of the characters fleeing a pack of slave hunters. I have always been a history...
Good Coretta-Scott-King-Book-Awards-Breakfast-Sunday morning! I stand before you as the fifth recipient of the Coretta Scott King–Virginia Hamilton Award for Lifetime Achievement in the category of practitioner and in the company of the distinguished colleagues who have come before me: Dr. Henrietta Mays Smith, Demetria Tucker, Deborah D. Taylor, and Dr....
Since the first incarnation of the Virtual History Exhibit in 1999, many people have contributed their time and expertise. Rather than separate out the three versions of this exhibit, they are all listed together below. Concept & Design Lolly Robinson Elissa Gershowitz Katie Bircher Charlotte Reber Eva Anner Copy Kitty...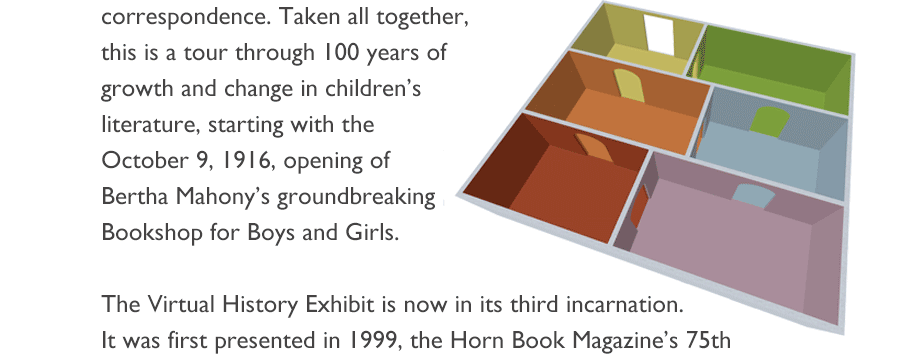 Click on a gallery to begin your exploration of the Virtual History Exhibit Our Roots | Controversies & Kerfuffles | Horn Book Magazine | Listen In | Horn Book Guide | Authors & Illustrators Acknowledgements ...
Ekua Holmes. Photo courtesy of Ekua Holmes.Congratulations to all of the 2019 awardees on the podium today. Along with you, I am deeply honored to receive this award, on its fiftieth anniversary, given in the name of Coretta Scott King — a woman whom I deeply admire for her work...
Ekua Holmes is love. I am but one grateful member of an immense and inspired community that cherishes, and is beloved by, Ekua. At its heart, this community is local, centered on the place of Ekua's birth — Roxbury, Massachusetts — via Arkansas and the U.S. American South, via Africa....
When I was a young girl, growing up on the South Side of Chicago, I was lucky enough to have weekly visits with my grandmother, Thelma Shepherd Rone, whom the adults called Dearest or Day but whom I always knew as Grammie. I was a quiet little girl, but I...
2,492 articles