Here's an updated list of Passover books to nibble on when the matzo runs dry.
Here's an updated list of Passover books to nibble on when the matzo runs dry. With the exception of board books, these titles were recommended by The Horn Book Magazine and Guide at the time of their publication; reviews are reprinted from the Guide/Reviews Database. Please visit the Association of Jewish Libraries website for more book recommendations.
Preschool
Balsley, Tilda ABC Passover Hunt
32 pp. Kar-Ben 2016
Library ed. ISBN 978-1-4677-7843-5
Paperback ISBN 978-1-4677-7848-0
Ebook ISBN 978-1-4677-9612-5

Illustrated by Helen Poole. For each letter of the alphabet, this picture book introduces a Passover-themed concept and poses a rhymed question about it; the accompanying illustration provides multiple-choice options or a related puzzle. Ordering the elements alphabetically (for a holiday that's very much concerned with chronological order) makes the text a bit disjointed, though it's useful as review for readers already familiar with Passover.


Balsley, Tilda and Fischer, Ellen Grover and Big Bird's Passover Celebration
24 pp. Kar-Ben 2013
Trade ISBN 978-0-7613-8491-5
Paperback ISBN 978-0-7613-8492-2

Balsley, Tilda and Fischer, Ellen It's a Mitzvah, Grover!
24 pp. Kar-Ben 2013
Trade ISBN 978-0-7613-7562-3
Paperback ISBN 978-0-7613-7563-0

Illustrated by Tom Leigh. Shalom Sesame series. Sesame Street characters in Israel relate two stories involving doing good deeds. In Mitzvah, Grover and friends clean up a playground after a storm, though Moishe the grouch hesitates to participate. In Passover, Big Bird joins Grover and learns about Passover as they do mitzvot en route to a seder. The tone is un-preachy and preschoolers will recognize the friendly cast of characters.


Glaser, Linda Hoppy Passover!
24 pp. Whitman 2011
Trade ISBN 978-0-8075-3380-2

Illustrated by Daniel Howarth. The rabbit family that previously celebrated Hanukkah (Hoppy Hanukkah!) now joyously observes Passover. Siblings Violet and Simon participate in traditions such as reciting the Four Questions and preparing the Seder plate. The rabbit-children's infectious excitement comes across in both text and illustrations (though the cheerful, pastel-colored palette and bouncing bunnies may bring to mind another springtime holiday).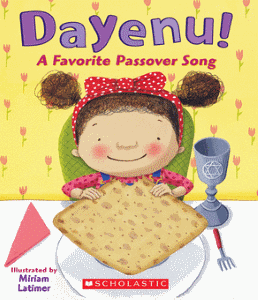 Latimer, Miriam Dayenu: A Favorite Passover Song
12 pp. Scholastic 2012
Board book ISBN 978-0545312363

Instead of tongue-twisting Hebrew lyrics (fifteen verses worth!), the condensed text of the Passover ditty is twelve pages of cheerful, toddler-friendly gratitude, mostly in English: "When the Jews came out of Egypt, / That was enough to make us happy. / Sing a song and show we're happy, / Dayenu!" Even if you can't keep straight your hotzianus and mitzrayims, everyone can belt out the bouncy Hebrew chorus: "Day-Day-enu, / Day-Day-enu, / Day-Day-enu, / Dayenu, Dayenu, Dayenu!


Newman, Lesléa A Sweet Passover
40 pp. Abrams 2012
Trade ISBN 978-0-8109-9737-0

Illustrated by David Slonim. Miriam loves matzo — topped with everything from butter and cream cheese to cottage cheese and tuna salad — but by the end of that eight-day matzo-thon, Passover, she's "sick, sick, sick" of it. Grandpa brings her back into the fold with his special matzo brei (he calls it "Passover French toast"). Slonim's illustrations are warm and inviting. A kid-friendly recipe is included.


Primary
Adler, David A. The Story of Passover
32 pp. Holiday 2014
Trade ISBN 978-0-8234-2902-8

Illustrated by Jill Weber. Adler follows up The Story of Hanukkah with the Passover story. The straightforward text touches on Jacob and the Children of Israel, slavery and Pharaoh's cruelty, Moses's encounter with the burning bush, the ten plagues, and the Red Sea escape. Weber's expressive, rich-hued acrylics play up the drama but also offer reassurance and even some humor through small, eye-pleasing details.


Edwards, Michelle Max Makes a Cake
24 pp. Random 2014
Trade ISBN 978-0-449-81431-4
Library binding ISBN 978-0-375-97164-8
Ebook ISBN 978-0-375-98147-0

Illustrated by Charles Santoso. Max and Daddy plan to make a surprise cake for Mama's Passover birthday, but time's a-wastin' as Daddy tries to settle Max's fussy baby sister. Worried that there will be no cake, Max has a great idea, and a "hurry, hurry, hurry Passover cake" is the result. Bold, amiable illustrations underscore Max's relatable anticipation and frustration, and his final triumphant accomplishment.


Glaser, Linda Stone Soup with Matzoh Balls: A Passover Tale in Chelm
32 pp. Whitman 2014
Trade ISBN 978-0-8075-7620-5

Illustrated by Maryam Tabatabaei. A stranger arrives in Chelm on Passover. Let "all who are hungry come and eat," sure, but the villagers don't have much to share. The stranger produces a stone, promising to make matzoh ball soup...and you know the rest. Glaser's well-cadenced text and Tabatabaei's digital-looking art are as light as the Chelmites' matzo balls ("...so light they can almost fly").


Goldin, Barbara Diamond The Passover Cowboy
32 pp. Behrman/Apples & Honey 2017
Trade ISBN 978-1-68115-527-2

Illustrated by Gina Capaldi. Recently arrived Russian immigrant Jacob invites his new friend Benito to his family's first Passover Seder in Argentina, a meal that must overcome a few mishaps. The plot is somewhat thin, but both the text and realistic full-page gouache paintings convey the warmth of the ceremonial spring meal, and of the new friendship. An author's note discusses nineteenth-century Russian Jewish immigration to Argentina.


Kimmelman, Leslie The Little Red Hen and the Passover Matzah
32 pp. Holiday 2010
Trade ISBN 978-0-8234-1952-4

Illustrated by Paul Meisel. Who will help make the Passover matzah? When Sheep, Horse, and Dog prove unreliable, stereotypical Jewish mother Little Red Hen (somewhat grudgingly) takes up the reins. The good-natured text's cadence extends the mother-hen comparison, while affectionate ink, watercolor, and pastel illustrations keep things from going too far over the top. An author's note about Passover and a matzah recipe are appended. Glos.


Korngold, Jamie Seder in the Desert
32 pp. Kar-Ben 2014
Library binding ISBN 978-0-7613-7501-2
Ebook ISBN 978-1-4677-2431-9

Illustrated by Jeff Finkelstein. The narrator describes what it's like to have a Passover seder in a desert setting "just like the Israelites." The plain text and accompanying photographs serve as an advertisement for the author's Adventure Rabbi program (with information about it included at the end); however, the photos of the many people participating, particularly the kids, make it look like a good time.


Lanton, Sandy The Littlest Levine
24 pp. Kar-Ben 2014
Library binding ISBN 978-0-7613-9045-9
Paperback ISBN 978-0-7613-9046-6
Ebook ISBN 978-1-4677-2432-6

Hannah resents being the littlest one in the family. But when her grandfather teaches her to chant the Four Questions for their Passover seder (the job of the youngest at the table), Hannah is finally grateful. The sentimental story is accompanied by pleasant pastel-colored illustrations featuring a pinpoint-eyed family. An explanation of the holiday is included.




Leopold-Strauss, Linda A Different Kind of Passover
32 pp. Kar-Ben 2017.
Library binding ISBN 978-1-5124-0097-7
Paperback ISBN 978-1-5124-0102-8
Ebook ISBN 978-1-5124-2723-3

Illustrated by Jeremy Tugeau. Jessica is concerned that her bedridden grandfather will not be able to attend this year's Passover seder, let alone lead the ceremony as usual. In spite of this year's changed circumstances, Jessica finds a way for Grandpa to guide the readings right from his bedroom. Softly textured illustrations depict preparation for the traditional meal as related in the sincere first-person narrative.




Leopold-Strauss, Linda The Elijah Door: A Passover Tale
32 pp. Holiday 2012
Trade ISBN 978-0-8234-1911-1

Illustrated by Alexi Natchev. In a small village long ago, the once-close Lippa and Galinsky families feuded. With the rabbi, their children (who loved one another) enacted a plan to bring their families together for Seder so that Passover could truly be celebrated. How the whole village participates makes for a warmhearted story of reconciliation and togetherness. Strikingly painted woodcuts illustrate the Passover tale.


Marshall, Linda Elovitz The Passover Lamb
24 pp. Random 2013
Trade ISBN 978-0-307-93177-1
Library binding ISBN 978-0-375-97106-8

Illustrated by Tatjana Mai-Wyss. Miriam is looking forward to singing the Four Questions at her grandparents' Passover seder. But when a newborn lamb on the family's farm is abandoned by its mother, Miriam worries she'll have to miss the seder to care for the unwanted baby. Her solution is unsurprising but charming; soft illustrations reinforce Miriam's affection for the (particularly cute) baby sheep.


Ofanansky, Allison How It's Made: Matzah
32 pp. Behrman/Apples & Honey 2017
Trade ISBN 978-1-68115-524-1

Photographs by Eliyahu Alpern. This book focuses on the steps of and rules for making matzo by hand or by machine. A few spreads give broader context about Passover; some layouts include more elements than necessary. Text and photos acknowledge differences within the Jewish community, and activities encourage readers to make matzo or other Passover-related items (some of which require adult supervision unmentioned in the text).


Portnoy, Mindy Avra A Tale of Two Seders
32 pp. Kar-Ben 2010
Trade ISBN 978-0-8225-9907-4
Paperback ISBN 978-0-8225-9931-9

Illustrated by Valeria Cis. A young girl has gone to six different Passover seders in the three years since her parents' divorce. At the sixth seder, attended by both her mom and dad, the girl's mother likens families to different varieties of charoset, a traditional dish: "Some have more ingredients...But each one is tasty in its own way." The realistic story is accompanied by pattern-filled illustrations. Charoset recipes are included. Glos.


Rappaport, Doreen The Secret Seder
40 pp. Hyperion 2005
Trade ISBN 0-7868-0777-6

Illustrated by Emily Arnold McCully. Hitler has overtaken Europe, and young narrator Jacques and his Jewish family are living in a small French village, posing as Catholics. At Passover, Jacques's father dares to take him into the mountains to celebrate the ceremonial feast traditionally held on the first two nights of the holiday. McCully's solemn, brooding watercolors enhance this suspenseful tale of the power of faith. Reading list.


Silva, Shanna Passover Scavenger Hunt
24 pp. Kar-Ben 2017
Library binding ISBN 978-1-4677-8937-0
Paperback ISBN 978-1-4677-9422-0
Ebook ISBN 978-1-5124-2722-6

Illustrated by Miki Sakamoto. Rachel decides to play with tradition at her family's seder by creating an afikoman scavenger hunt to find the hidden matzah. She gets everyone involved in searching and solving holiday-themed clues. The story is playful and substantive (though not precise about the order of the seder). The cheerful illustrations are true to the story but also stereotypical and unimaginative.


Snyder, Laurel The Longest Night: A Passover Story
32 pp. Random/Schwartz & Wade 2013
Trade ISBN 978-0-375-86942-6
Library binding ISBN 978-0-375-96942-3

Illustrated by Catia Chien. A young Jewish slave describes the ten plagues and the Israelites' hurried flight from Egypt in impeccable rhyming couplets. Dark, expansive acrylic illustrations are well matched with the text (some, such as a full-page, open-jawed wolf, may be too intense for very young readers). The concluding spreads, featuring the parting of the Red Sea and a gorgeous sunrise, are a treat. Glos.


Wayland, April Halprin More Than Enough: A Passover Story
40 pp. Dial 2016
Trade ISBN 978-0-8037-4126-3

Illustrated by Katie Kath. Dayenu! This picture book interprets the word, traditionally used in the Passover seder, as being "grateful for the blessings in each moment"; a sibling pair repeats it as they joyfully prepare for and celebrate the holiday. Warm watercolors complement the text's message of appreciation and mindfulness. A note on Passover and sheet music for the song "Dayenu" are included. Glos.


Ziefert, Harriet Passover: Celebrating Now, Remembering Then
40 pp. Blue Apple 2010
Trade ISBN 978-1-60905-020-7

Illustrated by Karla Gudeon. This appealing volume presents contemporary Passover rituals alongside a retelling of the festival story. Left-hand pages include "Now" information while right-hand gatefold pages open to reveal the "Then" side: additional details about the Passover tale. Unfussy illustrations against natural-paper-textured backgrounds help illuminate events. The decorated endpapers are adorned with holiday symbols.