Five questions for Leo Landry
•
Back to school
•
Size matters in picture books
•
Illustrated middle-grade fiction
•
YA historical fiction (and one biography)
•
From the Editor
For a list of books mentioned in this issue, see
link
below.
Masthead art © by William Steig, used with permission of Pippin Properties, Inc.
Author-illustrator Leo Landry, a twenty-year bookselling veteran of The Children's Book Shop in Brookline, Massachusetts, is the creator of picture books (Space Boy; Eat Your Peas, Ivy Louise!), as well as chapter books (Fat Bat and Swoop; Sea Surprise); newly independent readers should line up for Grin and Bear It, his latest offering. In this short (just forty-eight pages) chapter book, joke-writing-genius Bear dreams of making his friends laugh. He's got some awesome material, but he's also got a problem: stage fright. Enter hummingbird Emmy, gifted at performing but not at joke writing; together they pool their talents and realize their dreams. Young readers will be a receptive audience for Landry's gentle illustrations, accessible text, and first-grader-funny jokes ("What do little girl cubs wear in their hair? Bear-ettes!").



1.

Who or what was the inspiration for the character of Bear, and does he bear (get it?) any resemblance to you?

Leo Landry: Years ago, I took a stand-up comedy class to get over my anxiety about public speaking. The final class was a five-minute live performance at a local comedy club! My bit was about the things you find yourself saying or overhearing as an adult working in a children's bookstore (such as how many times you might say the word bunny in a day or, in one case, being told by a mother, "it's only little girl pee!"). I got through the five minutes, but I'm not sure I could do it again. "Write what you know," people have always told me. And so Bear was born. Read more...



What better way to mark the start of the school year than by reading about school? Four new books for elementary-age kids (two picture books and two chapter books) all involve classroom adventures, whether the setting is a one-room schoolhouse, the protagonist is a baked good, or the lessons learned reach beyond report cards.

For young history buffs, here's a picture-book portrait of a mid-eighteenth-century one-room school. In Hornbooks and Inkwells by Verla Kay, brief staccato quatrains set the scene and tell the story: "Sternly standing, Master greets, / Pairs of children, taking seats." The school year passes with a sampling of lessons (written on birchbark) and recess (stilts, marbles, ice skating). S. D. Schindler's lively illustrations evoke the period with such details as dress, the school's minimal appurtenances, and students helping one another learn. (5–8 years) Read more...




Caterpillar or tadpole, "little bitty man" or "little little girl," the diminutive characters of these new picture books have big adventures — proving that what they lack in size, they make up in personality.

The pond gets crowded when Ken Kimura's 999 Tadpoles transform into 999 frogs, but relocation is hazardous: a hungry hawk nabs Father. Mother's quick thinking saves the day as she and all the young ones grab on. The wiggling, complaining string of frogs becomes too much for the hawk, which drops them right into a commodious new pond. There's not a word misplaced in the funny text, and Yasunari Murakami's illustrations are full of lively movement. (3–6 years) Read more...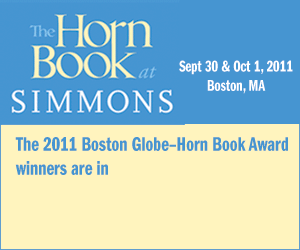 The continuation of a popular comic novel series, new work from a Caldecott Medal winner, and a novel about the 1950s Soviet Union — three new illustrated novels feature compelling stories not only for proficient middle-grade readers but for reluctant ones, as well. With the art doing as much to advance the plot as the text, these graphic and illustrated novels offer an alternative approach to traditional reading.

Big Nate on a Roll by Lincoln Peirce is the third (mis)adventure of hapless Nate Wright. Here the sixth grader finds himself in fierce, albeit one-sided, competition with Artur, the all-around good guy who always wins everything. Nate is not about to let Artur win a new skateboard (the prize for a scouts fundraising drive), so he cooks up some inventive, mostly self-defeating, schemes to beat him. The interplay between text and drawings remains fresh, and Nate's own cartoons are almost as funny as Peirce's. (8–12 years) Read more...




Nazi Germany, ancient Egypt, and 1893 New York City are the settings for new historical novels for teens, while a biography of Dickens takes readers to Victorian London.
In 1936 Berlin, Karl Stern is surprised when he's beaten up by Nazi bullies: he's blond and fair-skinned, and he and his family aren't observant Jews. Then German boxing champion Max Schmeling offers him boxing lessons in exchange for one of Karl's artist father's paintings. Robert Sharenow's
The Berlin Boxing Club
is a meaty, readable account of the perils and pitfalls of daily life in Nazi Germany. (14 years and up)
Read more...


From the Editor
As I write, Kitty Flynn and Lolly Robinson, along with our web team in New York, are busy readying a revamped
www.hbook.com
. Go take a look. There's some neat new stuff there, including some children's book satire inspired by
Project Runway
and an interview by Leonard Marcus with Maurice Sendak about the great artist's new picture book,
Bumble-Ardy
.
And don't miss our new blog,
Calling Caldecott
. Helmed by Lolly and
Horn Book
reviewer Robin Smith, the blog will consider all matter of things to do with the Caldecott Medal, including our team's appraisals of what's going for this year's gold. We are hoping that you will be enlightened by the posts and join in the discussion.
Roger Sutton
Editor in Chief
Send questions or comments to
newsletter@hbook.com
.
More recommended books
•
Awards listings
•
Hornbookguide.com
•
Roger Sutton's blog
•
Current Horn Book Magazine
Newsletter archive
Notes from the Horn Book, Volume 4, Number 9. © 2011 by The Horn Book, Inc. A Media Source Company.
.
.